Slave Coast
We woke up early on Saturday morning and headed west along the southern Ghanaian coast. Accra is plagued with very nasty traffic snarls, and it seemingly takes forever to get out of town (even on an early Saturday morning). Once we get out on the open road we meet typically third-world driving conditions and the accompanying signs that "overspeeding kills" and 3 people died here, or 5, or 9, or 32, or more than 70. I think we see 2 or 3 accidents this weekend, with more leftover wrecks alongside the road.
The first fort we come across is Fort Amsterdam. My guide book tells me that the British built it in 1638, and the Dutch captured it in 1665. Ghana's colonial name was the Gold Coast, and Europeans built about 80 of these structures along the coast, originally just to facilitate extraction of gold from the interior of the continent. Something like 14 of these forts and castles remain, and I would love to visit every single one of them. But we keep on flying by. Maybe I'll get a chance to come back some time, but it is always a hassle to do things like this on public transit and the horrible traffic in Accra assures that a severe case of inertia sets in.
The first stop is Assin Manso, the slave river. This was the final stop before arrival on the coast for slaves captured in the interior of the continent. Here the slaves were bathed and checked for fitness. Those who did not pass muster were buried alive so that they could not return home to tell others about the slave route. Now a memorial marks this spot, with the remains of 2 slaves from the Americas symbolically reburied here, portraits of famous leaders, and murals that tell this history. I would like to linger, but it is raining and and it is time to move on.
Elmina is one of three main European colonial structures along the coast (the others are Cape Coast and Christiansborg Castle in Accra, the current seat of government and one that cannot be visited). The Portuguese built Elmina ("the mine") in 1482 before it passed through Dutch hands on the way to the British four centuries later. Dating to a decade before Columbus' crossing of the Atlantic, it is the oldest and largest European structure in the tropics. As the name implies, originally it was established as a trading post for the gold trade, and only later became part of the slave trade.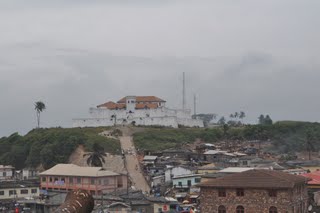 On the hill facing Elmina is St. Jago Hill that the Dutch used in 1637 to bomb the castle and force the Portuguese to surrender. The Dutch then built a fort on the hill to avoid a similar fate. The building is still there, but I am not clear what else. I would have liked to have visited. Maybe another time.
In between the fort and castle is a fishing harbor and market. We stopped there on the way back to Accra on Sunday, and the Ghanians with us bought two large coolers full of fish. Watching them bargain for the fish in the market was an interesting ethnographic experience. The market had a broad range of fish, including octopus, squid, crabs, and who knows what else. A man came with a big block of ice and busted it up with a stick to keep the fish cool and fresh. On the way back to Accra we stopped at stands to buy dirt cheap pineapple (6 for 4 cedis, or about $0.50 USD a piece) and a big bag of oranges for 2 cedis. Now I finally can have my freshly squeezed orange juice for breakfast (I really do wish I had brought my juicer along with me).
But back to Saturday and the Cape Coast. In the afternoon, we visited the Cape Coast Castle, the largest and most famous slaving holding site. Unlike Elmina, this castle was built explicitly for the slave trade with dungeons to hold the captives right under the church on the main parade grounds. The contradictions are stunning. The castle has a famous "Door of No Return" through which slaves were boarded onto ships and taken to the Americas. I wanted to take a facebook profile picture framed in this doorway, but completely forgot about it until after we had left. On the ocean side of the doorway a sign now says "Door of Return" through which the mortal remains of two slaves passed before being reburied at Assin Manso.
Cape Coast and Elmina are quite different, but the problem with seeing both back to back is that they begin to blend together in my mind. Both castles bounced around between European powers, but at the height of the slave trade Elmina was a Dutch site and Cape Coast was a British center. They are located only about 14km apart, and on a clear day they are visible from each other. Both are impressive structures with long and brutal histories.
On Sunday we visited the Kakum National Park and its much-publicized canopy walk, a 350 meter long and 40 meter high walkway suspended between seven trees. It is one of about 7 in the world, and the only one in Africa. My guide book calls it an overrated gimmick, and it really is not that much fun for those of us with severe cases of vertigo. The heavy bouncing Dutch guys behind him made me close my eyes and concentrate on crossing rather than enjoying the view. Besides, it was raining and my camera got all wet and the guide did not provide any explanation of any unique features of the canopy that might justify our presence up there. Without that, it becomes little more than an expensive amusement ride.
In retrospect, I regret not going on a forest walk, which I would have found much more interesting. We had the time, and could have done so. Walking up to the canopy we crossed a line of soldier ants, and without seeing them stepped--and, worse--stopped right on the line. In retrospect, we wished we would have had a picture of that scene, but I was too busy trying to brush off the biting ants to remember how my camera worked!
(PS, I have lots of photos, but blogger--which is increasingly flaky--is not cooperating in uploading them. I'll try to upload some to
facebook
as well, but the slow internet connection here is complicating that venture.)